Nudging toward better health
10/02/2022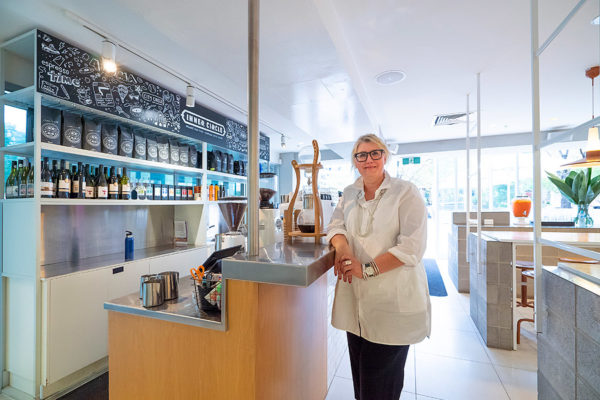 At Spotless we support our employees and our customers to make healthier choices every day, through Nudge, our health and lifestyle program. Nudge recognises both our duty of care as an employer of choice, and the positive business impacts of a healthy staff and satisfied customers.
When it comes to food, enhanced focus on health and wellbeing continues to drive consumer choices toward healthier options. In early 2016 we identified a gap in the market for a broader range of healthy food options to be made available in workplaces and schools, and from there, Nudge was born.
What is Nudge?
We know people need to make their own choices when it comes to health and wellbeing. But we also know life is busy. Nudge does the legwork, making better choices more accessible. It's not a diet or a fad, or a set of rules. It's about presenting food options that make it easier for our employees, clients and customers to make healthier decisions, every day.
Nudge was developed and continues to evolve under the management of Spotless' Group Food Development team. It includes:
Nutrition Guidelines and criteria endorsed by Nutrition Australia and the Heart Foundation New Zealand

450+ recipes and menu items

Guidance for strategic food service flow, to encourage selection of healthier options

Informative packaging, signage and interactive materials to help educate and engage in dining areas, and in the field

Extended program options into a suite of additional health and wellbeing add-ons, including physical and emotional wellbeing seminars, programs and initiatives

An audit and feedback cycle to drive ongoing development and continuous improvement.
Nutritional guidelines with integrity
At its core, Nudge is about providing healthy food options. Our Nutrition Guidelines have been developed in collaboration with Australia's peak community nutrition body, Nutrition Australia. The Guidelines complement existing government guidelines and reflect best-practice scientific principles on healthy eating. Along with Nutrition Australia, the Heart Foundation New Zealand also endorses the program, ensuring our employees and customers are assured of the integrity of Nudge menu items. A suite of 450+ recipes and menu items have been developed by our chefs, nutritionists and dieticians, and closely assessed to guarantee compliance with the Nudge Nutrition Guidelines. Our recipe bank continues to be added to as chefs submit recipes, which are then tweaked by nutritionists to ensure alignment. Recipes are stored in Spotless' menu management system and accessible by chefs working right across our business, from remote resources camps, to inner city workplace cafes, to boarding school dining kitchens.
| | |
| --- | --- |
| | |
Who is Nudge for?
Nudge is a versatile program, and easily adapted for most sectors and industries. We've rolled it out for our own employees, in office cafes, and worked with our clients to implement it in a variety of contexts. In restaurants and cafes, Nudge items are signposted on menus. In grab and go contexts, items are easily recognised by stickers and labels with the Nudge logo. And for bain-marie style service in resources camps and school environments, Nudge items are placed first in line to encourage selection. Nudge can be tailored to meet the specific needs of target groups, including:
Students

– catering for over 100,000 students in primary, secondary and tertiary facilities, we recognise that the quality of a student's diet can directly impact learning, emotional wellbeing, and personal satisfaction. Nudge offers an extended program for schools into health and nutrition themed promotions, incentives and challenges in dining halls and canteens. We also deliver face-to-face motivational and educational seminars throughout the year.

Resources workers -

mining personnel have been identified as being at higher risk of social isolation, mental health issues and chronic illness. In addition to healthy food options, access to educational programs, seminars, tips and tricks for physical and mental wellbeing are critical. Nudge offers these initiatives, along with the onsite management of gyms and delivery of physical training programs.

Office, commercial and industrial staff -

every day we prepare nutritious food for thousands of people in workplaces across Australia and New Zealand. A healthy workforce increases productivity and overall job satisfaction while reducing lost time frequency rates and general absences.

Groups with higher incidence of diabetes

- it is important that we consider the differing health profiles and needs of the Aboriginal, Torres Strait Islander and Maori and Pasifika people at all Spotless and client sites. With disproportionately high rates of diabetes amongst these communities, our menus provide healthy and delicious options and choices for those managing this condition.
Continuously challenging ourselves to improve
Spotless has a long and successful history in leading, not following, and the Nudge program supports our company value of putting people first. Integral to the ongoing success of Nudge is the implementation of feedback loops to drive continuous improvement. Audits, inspections and reviews are mechanisms used by our team to ensure strict alignment to the Nutrition Guidelines. Equally important, feedback from customers, clients, employees and students, chef forums, professional development and training for staff ensures fresh ideas and menu cycles which reflect the seasons and meet consumer tastes and appetites.