R U OK? Day
09/09/2021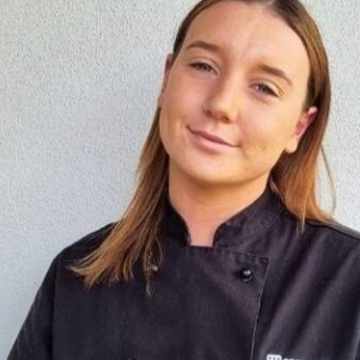 A national day of action where we are reminded that every day is the day to ask, "Are you OK?". Read Georgia's story on how a conversation changed her life and helped her overcome adversity to complete her apprenticeship as a chef. For information and resources on R U OK, visit the organisation's website.
Georgia Faulkner is indigenous and a chef currently working at Sunshine Coast University Hospital (SCUH). After leaving school in Year 10, Georgia worked at a seafood restaurant as a kitchenhand. This is where her interest in food and developing recipes began.
But her journey was not easy, following the unexpected passing of a close friend, Georgia found it difficult coping with the pressures of becoming a professional chef. "At the start of 2018, I lost a friend to suicide and I took quite a bit of time off work. I struggled to stay focused, had little interest in working or going into work," said Georgia. "I could tell this made everyone very frustrated, but they never gave up on me!".
Recognising her challenging situation, Matt Reid, Operations Manager, SCUH – Retail & Catering, stepped in to help. "As her journey continued, there were times when Georgia wanted to "throw in the towel" but I saw an enormous amount of natural talent in Georgia and refused to give up on her," said Matt.
Matt met with Georgia and her mother Bridgette to talk through the issues and identify ways Spotless could support her. "After the meeting, I started to get my head back in the game and refocus. For the following two months I crossed each day off on my calendar and made it a goal to be at work every day and put in 100 per cent." said Georgia.
Matt also engaged MEGT Australia, a not-for-profit organisation that supports employers, apprentices, trainees, job seekers, and students, to support Georgia through mentoring. "My mentor Craig was the most kind-hearted and caring person you could ever meet. He supported both my work and home life and was always only a text or phone call away. I do not think I could've done it without him".
Today, Georgia continues to work at SCUH as a chef and is continuing her education. "I am very proud of Georgia for the adversities she has overcome and her dedication to her craft," said Matt. "She has now come out the other side and is proudly still working for us here as a fully qualified chef. Well done Georgia I'm very proud of you."
Reflecting on her journey, Georgia said, "I loved every challenge, and I cannot thank Matthew and the team at SCUH enough for the amazing opportunities and ongoing support they have given me over the past two and a half years. I couldn't have done it without them and of course my amazing mother. This experience will stay with me forever. The people you have around you, supporting and cheering you on every step of the way really makes a big difference. The day I received my completion certificate in the mail was one of the best days of my life"!